Below you can read details of the government's first set of dates for easing Covid-19 restrictions…However, it has to be remembered that until we reach these dates Leeds, together with the rest of the UK remains in lockdown. To read Leeds City Council's latest information and to see a more detailed plan of how and when restrictions will be eased please click HERE.
The above link together with this one here leeds.gov.uk and the Local Welfare Support Scheme (LWSS, 0113 3760330) go a long way to offering support and information for local residents on a whole range of subjects including: accessing food, help with paying council tax, help and advice for businesses, self-isolation support, mental health support and information for families with children and young people.
And please note that much of the information that you will find via these links has also been translated in 11 different languages. To access this page click HERE
BACK TO CHURCH. For the latest guidance (issued Feb 25) from the Baptist Union regarding the reopening of churches, worship, children, youth and families ministry etc. please click HERE
Click HERE to access a 68 page PowerPoint presentation especially compiled to help people who are shielding or those who are supporting them.
To access any of the following items simply click on the type link
Health and Wellbeing
Mental Health and Emotional Wellbeing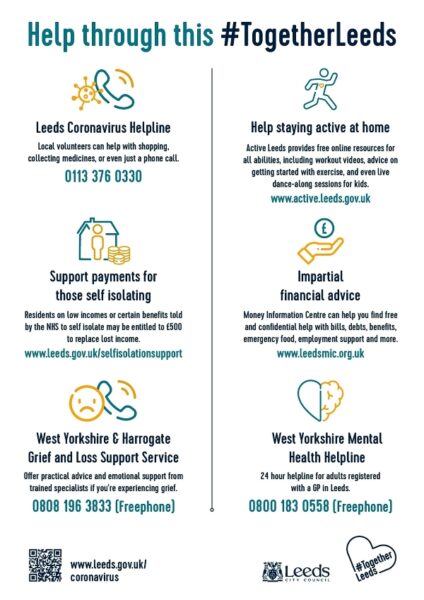 Bereavement Support
Ways to volunteer
Face coverings
Support for people experiencing domestic abuse
Support for Older People
Practical help and advice
Support for Carers
Information on food
Information on activities and online resources during lockdown
Scams to watch out for
Although we have reduced the number of scam alerts please make sure you read the latest ones. These are all different notices and while they may look the same they are added to regularly so please keep checking.
Please note that the content of third party links is outside our control, and so please notify us if any are broken.