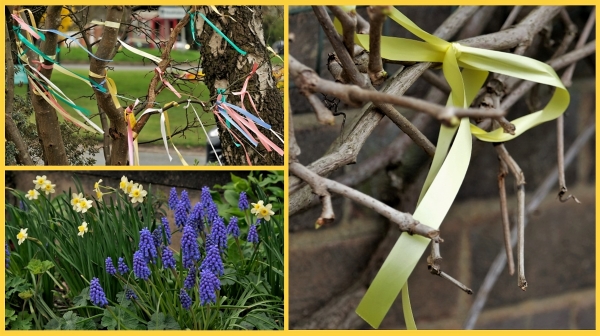 I don't know whether you have had the chance to walk past MBC recently but if you have there's no way that you will have failed to notice that things are looking a bit different. For a start the bins have moved (more on that later), the shabby hand rails have been returned to their original 1972 colour – British Racing Green.
Then high above the beautiful hand crafted cross tired planters have been restocked with show off bedding that shamelessly flaunts its reds, yellows, blues and greens. And as for as ribbons and bows, well, we're currently carrying a larger stock than a high end haberdashery.
So why all the activity, and why now? Could it be a direct response to our theme a couple of weeks ago; Jesus the gardener? We'd all like to think so.
Could it that extra hour we gained last Sunday has not only lightened our evenings but also our spirits? Could it be Monday's easing of lockdown rules that's underlined just how much we need one another's socially distanced company? Or could it simply be that right now following a winter of discontent the Easter story is reminding us not only of the glorious resurrection of our Lord Jesus Christ but also of so many other things we can to be thankful for.
In a church, as in any community people have different talents, different gifts. Here at Moortown although you wouldn't know it to look at them we have quite a number of people who have green fingers. And in the main it's these folk that we need to thank for our new look. I'm not going to name names, far too risky, but you know who you are.
So on behalf of the rest of us, those who in terms of horticulture and wood turning merely stand and stare thank you for your enthusiasm and your commitment. Thank you for the colour you are bringing into our lives. Thank you for your generosity in that you have decided to make your ad-hoc gardening group something more regularly and also to welcome anyone who wants to join you.
Meanwhile back to the bins. The bins have been moved because preliminary plans are now afoot to redesign the area between Kate's office and the sub-station in order to create a space where, when the weather permits people can sit and relax.
The project, with all costs covered will when complete feature neatly trimmed borders, a raised flower bed, wooden benches and a table all set on a smart paved base. We'll soon be circulating more details, and whilst we're not in a position to include anything over elaborate (certainly not pergolas and/or water features) we will of course be inviting your comments.